The 10th Israel Machine Vision Conference (IMVC) took place on March 18, 2019 at Pavilion 10, EXPO Tel Aviv.
Ofir Bibi spoke at a conference on "Sky Replacement in Video".
Abstract:
Who hasn't gotten an image or video with some dull skies taking up most of the space?
Professionals may edit these videos using advanced and time-consuming tools, to replace the sky with a more expressive or imaginative sky.
In this work, we propose an algorithm for automatic replacement of the sky region in a video with a different sky.
The method is fast, achieving close to real-time performance on mobile devices and can be fully automatic.
Joint work with Tavi Halperin, Harel Cain and Michael Werman. To be presented at Eurographics 2019.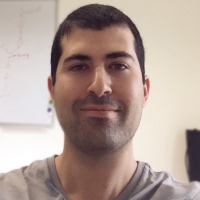 Bio:
Ofir Bibi is the director of research at Lightricks. His research is in the fields of machine learning, statistical signal processing, computational photography and computer graphics. He has taken leading research positions in building systems for estimation and prediction of various signals from weather, electricity consumption and financial markets to photos, videos and auditory signals. Currently he is focused on ways to create consistent results from neural networks in a resource constraint environment.
Legal Disclaimer:
You understand that when using the Site you may be exposed to content from a variety of sources, and that SagivTech is not responsible for the accuracy, usefulness, safety or intellectual property rights of, or relating to, such content and that such content does not express SagivTech's opinion or endorsement of any subject matter and should not be relied upon as such. SagivTech and its affiliates accept no responsibility for any consequences whatsoever arising from use of such content. You acknowledge that any use of the content is at your own risk.